Walking and Hiking in Bovec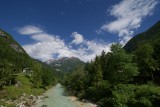 Bovec is great starting point for
hiking and walking holidays
. Those be be either self-guided or organized with a mountain guide.
A choice of walks and hikes can suite a wide range of guests - begginers, who would like to make just short walks for couple of hours and easy hikes to those who would like to acheive high mountain peaks and can include some of climbing as well.
Walking ans Hiking holidays in Bovec
We can prepare you many
customized packages
for your
hiking holidays in Soca valley
. Pacakges can include just accomodation in Bove for you holidays or we can add many services to make your walking holidays more comfortable.
Accommodation and Transfers
To make your hiking comfortable we can organize transfers for you. Those can be just from your
accomodation in Bovec
to your starting point and pick-ups at your destination point. If needed we can organize you
airport transfers
and taking you to the accommodation.
Accommodation, transfers and guided hikes
We can add a guide to you tailor made holidays, so you can feel more comfortable ans safe during your hikes. Guide will lead you over the paths in the valley or larger hikes to the mounatins. For more experienced one there are also lots of opportunities for ferratas.
For exact quotes, plase send us inqiry with details of your request over email or fill in contact form.

Bovec hiking trails
Soca trail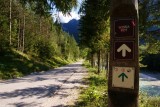 Soca trail is one of the first trails in Triglav national park and and is now connecting source (Spring) of Soca river and Bovec. Trails is more than 25km long and can be done in sections or in one day as whole.
Alpe-Adria trail
is large network or hiking trails starting at Grosglockner in Austria and ending in Muggia, Italy. It connects three countries in Alpe Adria region and Soca valley is considered as one of most attractive parts.
Read more about Alpe-Adria trail
Walks of peace
World War I left a big stamp in
Soca valley
history with famous Soca front starting at peak of mt.Rombon and ending at adriatic sea. There are many daily walks over the trails of war lines and in nature where you can see lots of renwed battle postions - bunkers, caverns and shoting lines.
Trails are maintained and supervised by
foundation Walks of peace
where you can get also more information about them.

Reccomended walks around Bovec
Here are some recommended walking trails and routes
Virje and Boka waterfall along Soca river
WWI walk to Kluze fortress
Krn lake hike
Kozjak waterfall and Kobarid history trail