Alpe-Adria Trail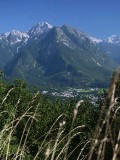 Bovec
and
Soča valley
is part of a large walking network called
Alpe-Adria trail
which leads its hikers on 740 km long routs from Grosglockner, Austria, over Italy and Slovenia to its finish in Muggia, Italy. Soca valley is considered as one of the most scenic part on the route, following the emerald
Soca river
.
Bovec and surroundings can be starting point for the following routes:
Kranjska gora to Trenta
Trenta to Bovec
Bovec to Dreznica
Dreznica to Tolmin
Best time for hiking this selection of Alpe Adria trails is from April until October. Summer months (July&August)can somethimes be very hot for walking.
Routes description
Alpe-Adria trail - section Kranjska gora to Trenta

This section of trail leads you over Vrsic pass, highest mountain pass with road in Slovenia. Pass is 1611m high and on the routes you can get scenic view to the peaks of Julian Alps. Trails also follows the road build by russian prisoners during WWI.
Points you should not miss: Ajdovska girl, view from the Vrsic, russian chapel



Quick info

| | |
| --- | --- |
| Lenght: 17,8km | Ascent: 962m |
| Duration: 6,3hrs | Descent: 1146m |

Alpe-Adria trail - section Trenta to Bovec

Trail leads us on well marked route along the Soca river also known as Soca trail, which is part or Triglav national park trails. Section starts in Trenta valley and ends up in Bovec, which is a good place for accomodation.
Points you should not miss: Mlinarica gorge, Trenta museum, Soca river gorges (canyon)



Quick info

| | |
| --- | --- |
| Lenght: 20,9km | Ascent: 571m |
| Duration: 5,3hrs | Descent: 736m |

---

Alpe-Adria trail - section Bovec to Dreznica


Points you should not miss: Virje&Boka waterfall, kayakers on Soca river, Dreznica village view



Quick info

| | |
| --- | --- |
| Lenght: 23,8km | Ascent: 802m |
| Duration: 6,3hrs | Descent: 721m |

---

Alpe-Adria trail - section Dreznica to Tolmin


Points you should not miss: villages under Krn mountain, views of Soca valley



Quick info

| | |
| --- | --- |
| Lenght: 18,3km | Ascent: 837m |
| Duration: 6,3hrs | Descent: 1182m |
Special offer for the hikers of Alpe-Adria trail
Accomodation&Transfers

We offer many packages with accommodation and transfer. We use Bovec and its surrounding as its base. This enables you to stay at one place and do daily hikes. We take care of your daily transfers to your starting point of the day and we pick you up at ending point after your hike. Packages can also include
transfers from airport
and train station.
Packages can vary in days and number of tranfers, but packages for 3 nights and 2 tranfers
start at 89,00 EUR/person
.

Transfers only

If you have found your
accommodation in Soca valley
and you are looking for transfers we can offer you tranfers between sections on the route or to your accomodation. If needed we can provide also transfers from airport, train or bus station.
We can offer passenger transfers as well as just lugage transfers between you daily accommodations.
For transfers quotes, please
send us an inquiry
.


For hikers making the sections on their own and do not need transfers we do offer also accomodation for one or more nights at special prices. Accomodation is subject to to availability. For current rates please
send us and email
or fill in form with your request.